Client

Follow-Up

Programs
Win Referrals and Repeat Business
The secret to growing your real estate business happens after the sale.
You're liked and you're trusted, but how do you make sure you're remembered? Real Estate Automated Client Follow-Up Campaigns, of course. Enjoy an incredible 5 years of marketing for the unbeatable cost of only $25 per client. (Postage included.)
Simply enroll your clients and we'll do the rest!
ProPower™

Client Follow-Up Program
21 Mailings Over 5 Years for only $25 Per Client, Postage Included
1 Thank You mailing — Express appreciation to your clients with a personalized postcard and custom return-address labels for their new home.
10 issues of Today's Living ® magazine — Impress your clients with this 20-page lifestyle magazine brimming with engaging content and eye-catching designs. New issues are mailed every May and November for 5 years.
10 personalized Home-Topic postcards — Thank your clients for their business and encourage referrals with modern, attention-grabbing postcards featuring your photo on the front and back. The postcards are mailed every February and August for 5 years.
See Sample Magazines & Postcards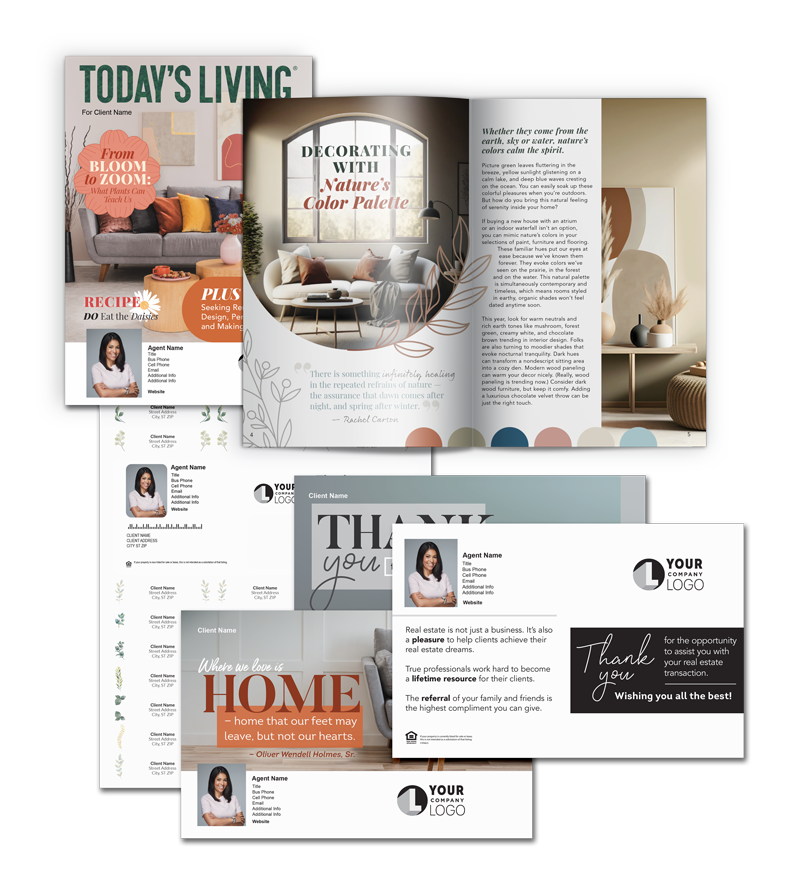 Staying in Touch With Past Clients Generates Referrals and Repeat Business
Referrals: On average, each happy home buyer you work with knows 5 friends or family members who are interested in buying or selling. The Automated Client Follow-Up Program from TPMCO is an easy, cost-effective way to stay top-of-mind long term.
Repeat Business: Your clients may need your services again in a few years due to a growing family, job change, etc. Set yourself up to gain referrals and repeat business by sending valuable content on a consistent basis. The ProPower Program keeps you top-of-mind for 5 years. Yes, 5 years for only one payment of $25.
Professionally produced postcards and magazines at a fraction of the competition's cost!
Enroll Your Clients Now
The Client Follow-Up Program is the best! My clients like receiving the mailings and I stay top-of-mind. I haven't found anything that's better or more affordable. I am super happy with The Personal Marketing Company and their services. It's a no-brainer for my marketing dollar.

Aaron Williams
Additional Client Follow-Up Programs
Expressibles Program
$13 per client for 3 years (13 postcards)
$16 per client for 5 years (21 postcards)
1 Thank You postcard
Personalized Home-Topic postcards
Order Now
Magazine Program
$13 per client for 3 years (6 magazines)
$16 per client for 5 years (10 magazines)
1 Thank You mailing with return-address labels
Today's Living ® magazine mailed every May and November
Order Now